Dick and Troy planting a tree with Jefferson student, Omar Hajii-Mohamed.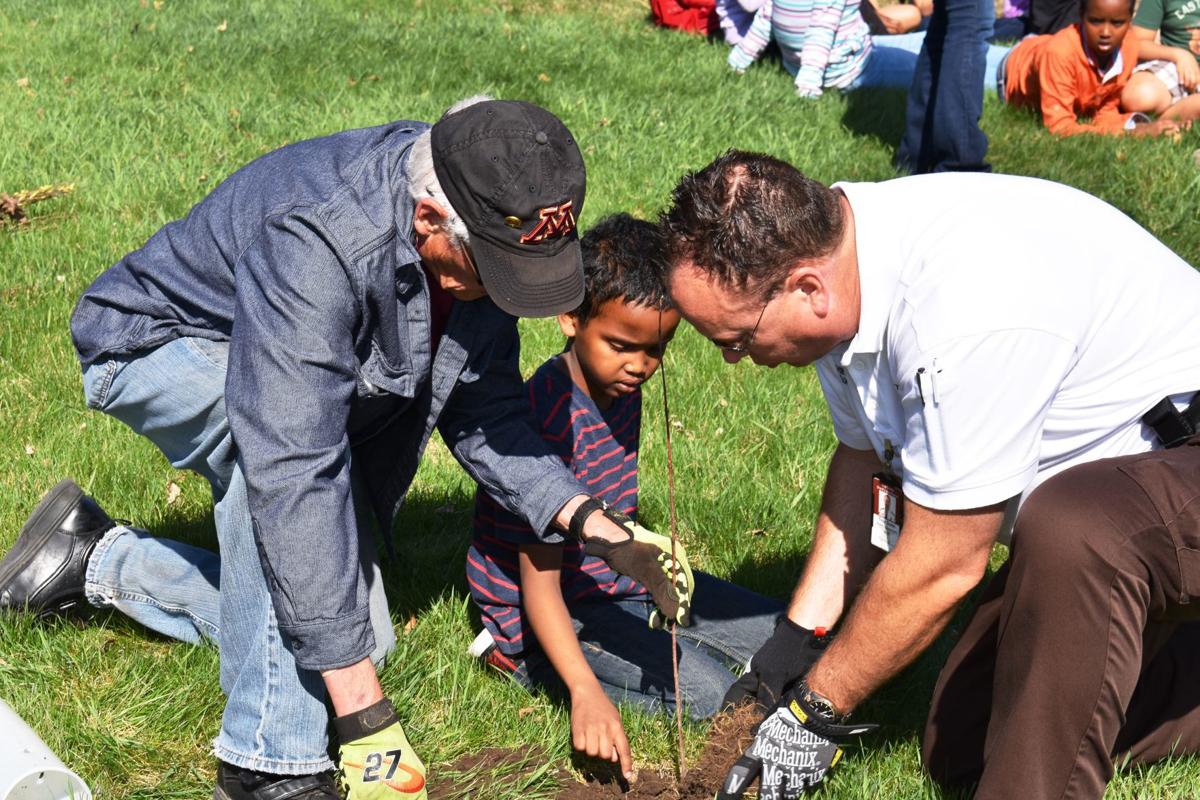 On Monday, longtime Faribault Rotary Club member Dick Huston rallied Jefferson Elementary School's third-graders, getting them to help him plant 93 trees, one for every third-grader in the school.
"Environmental degradation and global climate change are serious threats to everyone, said Rotary International President Ian H.S. Riseley. "They are having a disproportionate impact on those who are most vulnerable, those to whom Rotary has the greatest responsibility. Yet environmental issues rarely register on the Rotary agenda," he said.
"It is my hope that the result of that effort will be far greater than the environmental benefit that those 1.2 million new trees will bring," Riseley said. "I believe the greater result will be a Rotary that recognizes our responsibility not only to the people on our planet, but to the planet itself."
Besides helping achieve the Rotary Club's goal, Huston saw the tree planting as an educational opportunity for the students to learn more about the environment. Huston said his three pillars are "education, conservation and collaboration," all of which were accounted for in the tree-planting exercise.
Families of some third-graders agreed to take trees home and plant them there, others opted to have their trees planted at the school. The rest of the trees will be taken to Huston's farm, where they will be planted during a special field trip for third-graders later this school year.
"I'm really excited," said Huston before presenting to the students Monday morning. "The kids are so enthusiastic and ready to go."
Huston and Rice County Sheriff and Rotary Club President Troy Dunn represented the Rotary Monday, but Faribault teachers led the educational portion. In a slideshow presentation, teachers asked students "What are trees good for anyway?" showing them information from the Minnesota Department of Natural Resources website.
The students also learned about northern red oak, quaking aspen, red maple and honey locust trees, the four types that will be planted by the students this year.
"It's so great to have the school district and the Rotary come together," said Huston of the event. "In a nutshell, it's just fun."
Dunn, a Jefferson Elementary alumnus, proudly talked to the kids about his own tree-planting experience.
"When I was in fourth grade, I planted six trees at my house and now they're taller than the school," he said, describing to the kids how their efforts Monday will pay off years down the road.
"Hopefully, next year, you can plant even more and you can watch the trees grow every year," Dunn added.
With trees donated by the Rice County Soil and Water Conservation District, fertilizer from the Faribault Garden Club and tree stakes donated by Faribo Farm and Home, the effort is truly a local one that the students will benefit from for years.
What Huston hopes is that those students will see their efforts come to fruition when they graduate.
After each tree is planted, the students will tag their tree to take ownership of it, said Huston.
"Hopefully, they can take some graduation pictures with them when they are done," Huston said.
Reach Reporter Gunnar Olson at 507-333-3128 or follow him on Twitter @fdnGunnar.
©Copyright 2018 APG Media of Southern Minnesota. All rights reserved.