Welcome to STRC - Members serving the Scarborough Community
Service Above Self
We meet Wednesdays at 5:30 PM
The Olde Stone Cottage
3750 Kingston Road,
Scarborough, ON M1J3H5
Canada

Thinking about joining Rotary ?
Helping People help themselves in our Local and international/Global communities through Rotary
The funds raised during the rotary year are used to finance local community projects and in conjunction with the Rotary international and District organizations, funding is provided to sponsor international projects.
The Scarborough Twilight club is targeting our native peoples as one of our key benefactors and it is our intention to provide support for the children in our native schools and their families, working with the first nations leaders and their support
We also sponsor international programs to help people in Africa, The Caribbean and Latin America. These projects are done in conjunction with local Rotary clubs as joint international projects.
The table below show projects STRC completed and ongoing club projects in progress. We appreciate all member support and friends who support STRC. Thank you.
| | | | | |
| --- | --- | --- | --- | --- |
| No | Project Description | Benefactors | Start Date | End Date |
| 1 | Donation of 18 Basket balls to Scarborough club | Boys and Girls club of Scarborough | November 16/09 | November 20/09 |
| 2 | Skates & winter sport equipment | Webequie School and first nation families | September 10/09 | November 30/09 |
| 3 | Educational Books for Webequie school | First Nation School at Webequie for classes | August 15/09 | November 30/09 |
| 4 | St Vincent Children Christmas gift ( first time) | Children Christmas presents for poor families. | November 20/09 | In Progress |
| 5 | Scarborough Family Christmas wish | Two selected families with the community services | December 8/09 | December 22/09 |
| 6 | Annual Fall clean up at Abbeyfield seniors home | Seniors Resident in Scarborough | November 14l09 | November 9/09 |
| 7 | First Winter Fund raising event | Club Projects funding 2009-2010 | Jan 16th 2010 | Jan 16th 2010 |
| 8 | Fund Raising Shelter Boxes for Haiti | People of Haiti Earthquake Victims | On going Activity | TBA |
| 9 | Canada Day Festival Fund Raising | Scarborough Community | July 1/2010 | New |
| 10 | The Food Bank | St Boniface Food Bank | On going Activity | Club Annual drive |
| 11 | Christmas Families Program | West Hill Community Services | Dec. 2010 | Dec 22.2010 |
| 12 | Fall Halloween Fund raising Dance | Single parent in Scarborough | Nov 30/2010 | Dec 22/2010 |
| 13 | Webequie Native Family Support | Native School & Families | On Going Support | Nov. 16/2010 |
| 14 | St. Vincent Christmas Children Toys Drive 2010 | Children Christmas presents for poor families. | Dec 2010 | Dec 18/2010 |
| 15 | North Scarborough Ribfest | Multi-Cultural Summer Family Get Together | Canada Day Weekend | |
| 16 | Scarborough Youth Jazz Event | 3rd Annual Jazz Evening in Spring | Evening Concert | 2011 - Ongoing |
| 17 | Paul Harris Youth Scholarship | Given to Students in Scarborough Schools | Award | 2011 - Ongoing |
| 19 | Christmas Family Support | Single Parents in Scarborough | Support Needs | Ongoing |
Rotary honors UK Prime Minister Theresa May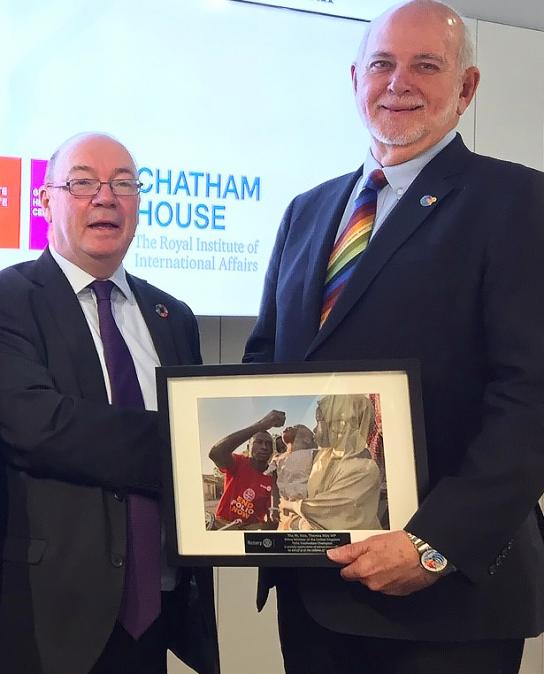 Rotary recognizes UK Prime Minister Theresa May with polio champion