Africa Water Drilling Program and Our 49er Pizza Bash
Posted by Pete Hochrein
on Nov 02, 2012
Students drill for clean water in East African village

Well drilling benefits AIDS orphanage and hundreds of villagers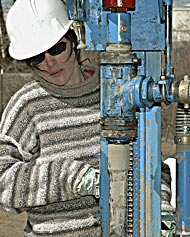 Joan Otahal, a graduate student of hydrology, practicing well drilling at the Nevada Agricultural Experiment Station's Main Station Field Laboratory in east Reno.
Tuesday, June 14, 2005
By Bob Conrad
Ron Petersen went to the remote village of Rabondo, Kenya in the summer of 2002 and heard a dire message:
"We know our water is poison," Rabondo's villagers told him. "We know that it is killing our children, but we don't know what to do about it."
A largely subsistence farming community, the livelihood of Rabondo's more than 5,500 inhabitants depends heavily on water.
"When (environmental consultant) Cathy Fitzgerald and I went there for the first time, they were drinking putrid surface water," said Petersen, co-founder of the Reno-based non-profit, International Development Missions. "People do laundry in the river, animals wade in it and pesticides wash downhill into the river."
Since their visit, Petersen and Fitzgerald, of Lifewater International, have been bringing to Rabondo a solution: water drill rigs and hydrology graduate students from the University of Nevada, Reno.
"In 2004, we took five graduate students from the University's hydrologic sciences program and drilled one well 30 feet deep," Petersen said. "That well now provides clean water for several hundred people. "
Another group of five students just returned from two weeks in Rabondo, where they drilled another water well to 34 feet, which now provides water for the village's AIDS orphanage and hundreds of villagers.
The students said that they benefit from their outreach efforts.
"It's interesting to see how people can survive with so little by subsistence farming," said Andrew Knust, a graduate student studying hydrology. "They were really appreciative of the work we did there. It felt good to be helping them and learning a lot at the same time."
To drill one well in the region requires a significant investment by the students. The students enroll in a one-credit course to practice drilling a well at the Nevada Agricultural Experiment Station Main Station Field Laboratory in east Reno. Travel arrangements and other details consume most of a semester.
Once in Rabondo, it takes a week or more to drill such a well and get it operating. The students also help teach classes at local schools while there, in addition to helping design and construct rainwater harvesting systems and perform a variety of other tasks that help community development.
The team plans to drill one or two wells a year for the next few years. The village has nine sub-clans and the goal is to eventually drill wells for each sub-clan.
The students are in the University's Hydrologic Sciences graduate program, which is consistently ranked among the top 10 program in the United States by U.S. News and World Report. They are also members of the Student Association for International Water Issues (SAIWI). This year, they received a $4,000 grant from the Ann Campana Judge Foundation to help fund the cost of drilling the wells.
We enjoyed an evening of football, pizza and fun!! Ken George won the first 2 quarters ($100) and David Windle won the last 2 quarters ($150) in the Football Pool. Ken informed me that the moving vans arrive on Friday, best wishes to Ken and Nancee on their move to Lincoln.