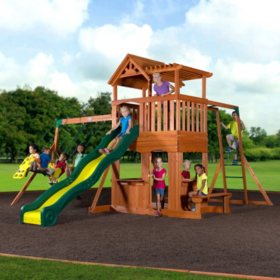 Since the social distancing guideline prevents our normal fellowship, today will be our second "online" fellowship. So, if you would like to respond to this bulletin or next week's email with any news or acts of service you want to share, I will publish them in the bulletin each week. Please let me know by 10 am each Wednesday.
For this his week's project my son Jackson and I are 70 pages into an 100 page instruction assembly book for the play set (see picture) we are building in his backyard for my granddaughters. We should finish this weekend. It is also time to clean off the deck get out the deck furniture. Last Thursday, I was able to attend a Zoom meeting with the Rotary Club of St. Charles with Dan Hedge as President. I did learn a few things from that visit. First, they are "thrilled" that we gave them such a devoted Packer fan and second, it seems that every club has a "George." I hope all is going well for all of you. Please remember to join our Zoom meetings at noon each Wednesday.
From Anne Marie:
There have been so many acts of kindness for our child care workers. Masks and sanitizer have been donated and I've been treating staff to Caribou and donuts. We can't do enough for this team!
From Donn Johnson:
Rotary music scholars
I believe it is appropriate to continue the music scholarships, theater scholarships, and art scholarships for our high school graduates and returning musicians. Here are the names of the music scholarship winners:.
Band-- Caleb Dewberry and Sebastian Malkavage
Choir-- Delia Denis and Erik Hagre
Orchestra-- Sarah Engbrecht and Sarah McColley
All-around-- Kylie Petricka
The Senior Arts recipients have received their notifications but I can't recall their names. Will let you know when my mind kicks in. Thanks. I am also waiting for Paul Johnson to get back to me for theater. He is looking for good camps that don't cost an arm and a leg. Appreciate it.
From Eric Craig: