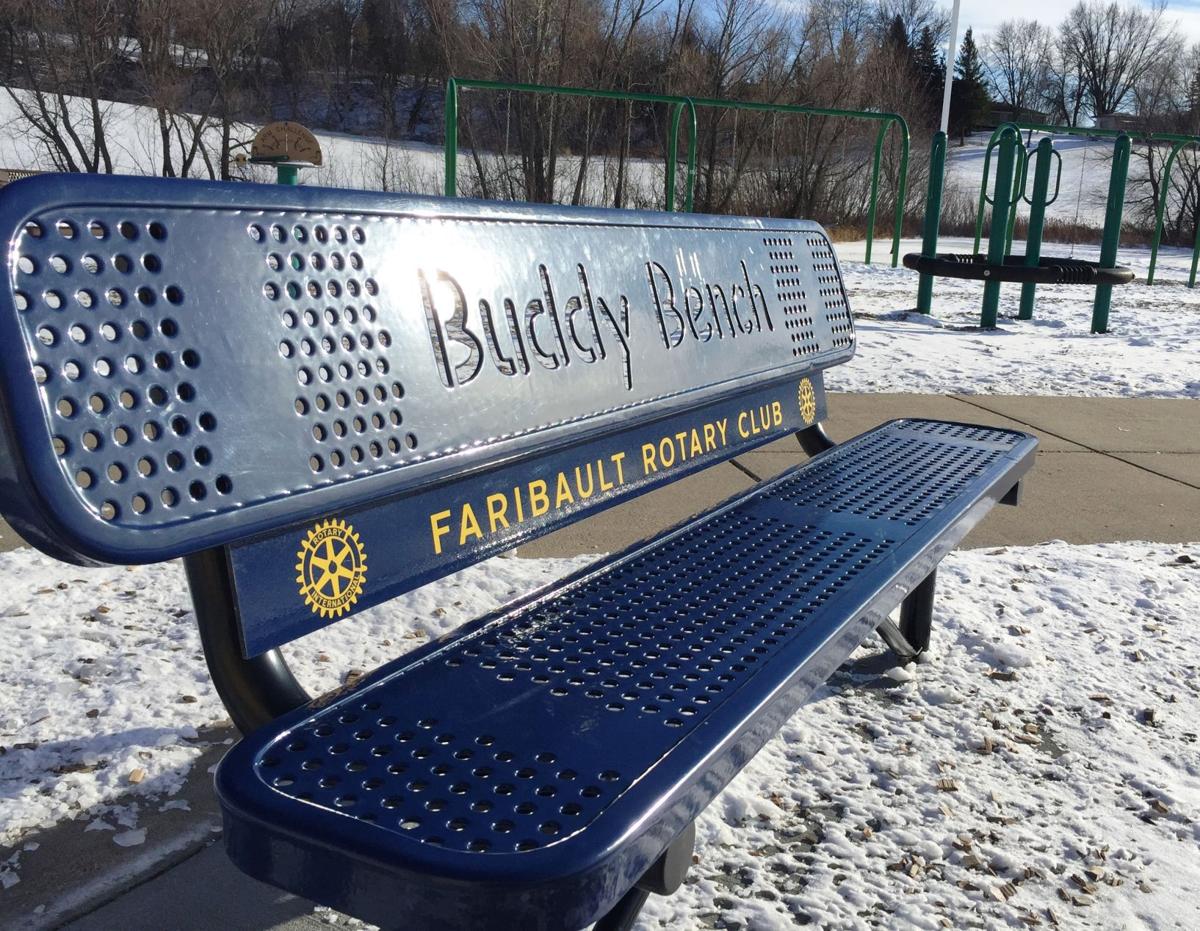 In order to place eight Buddy Benches at Faribault's seven elementary schools, the Faribault Rotary worked to raise $10,000. But now that the benches are in place, the real work of educating teachers and students has begun.
The eight benches were installed across the Faribault area from Lincoln Elementary to Nerstrand Elementary in October in an effort to encourage inclusiveness among area kids. Two benches were installed at Jefferson Elementary, which has two playgrounds.
The idea of a Buddy Bench is to provide kids a visible place to sit at their playground if they are feeling alone, sad or left out while other students are at play. The goal of the bench is to attract those kids to the bench and to who's sitting there so they can include that child.
While the aim of the bench seems simple, the Rotary members who embarked on the mission to put Buddy Benches at each school are working to make sure the benches aren't just benches.
"Number one, it's not just a bench," said Jake Cook, the former Rotary president who made Buddy Benches his presidential project. "It's to help students engage other students that aren't feeling involved that day or are having a bad day."
While he has not seen the benches in action yet, Cook said his children, who attend Nerstrand Elementary, have seen it work, and included kids who are sitting on the bench and taken a seat there themselves during a bad day.
"It's great to see the finished project and hear stories from teachers and staff and my own children who have used them," Cook said. "From my understanding, the benches are doing what I'd hoped they'd accomplish."
Last year, when the Buddy Bench project was being concocted, Cook teamed up with Kelly Velander, another Rotary member, who he credits with actually bringing the idea to Faribault after seeing a news report about them working in other communities.
Each year, the Rotary Club president devotes their term to a project like a downtown mural or the Security State Bank clock restoration. Last year, Cook took on Buddy Benches, raising the $10,000 and working with each of the elementary schools to implement them.
Up until the benches were unveiled in October, Cook and Velander took their efforts inside each of the seven schools, working with educators and the students themselves to maximize the effect of the benches on playgrounds.
"We actually had a meeting with staff members from each of the schools," Cook said. "We wanted to maintain continuity among staff members, so we provided them with PowerPoints and materials developed by Kelly Velander."
After those meetings, which took place in the first few weeks of the school year, Cook and Velander then asked the teachers to find time to talk with their students about how the Buddy Bench works.
After the conversations took place, Velander said the education appears "seamless," among the faculty, staff and students across Faribault.
"Staff are saying that students are out there using it and students are dropping everything to go help students on the bench," Velander said.
One of the educators who participated in the training was Jim Huberty, a behavior interventionist at Jefferson Elementary School. Huberty has noticed students using the benches at Jefferson and appreciated the training he received, pointing specifically to a video emphasizing the importance of using the bench to build longterm relationships.
Most important to Huberty, however, is the impact the benches could have within the walls of Jefferson Elementary.
"The need to fit in and that need to have social interaction is huge and I'm sure that it does transfer over into the academics," he said. "If a kid is emotionally ready to be with a group of people, they are more ready to learn."
In the training, teachers and students are taught that the bench should not be a place to sit and socialize, but rather, to promote socialization on the playground. Also, Cook emphasized that a student seated on the bench should play with the first person that offers, and not pick and choose the friends that ask them to play.
"I am proud that we have this in Faribault and I think we have had great support from the community on getting it going," she said. "Being accepted by peers is a huge issue for students, so I'm hoping that this creates an empathetic group of people growing up in Faribault."
Reach Reporter Gunnar Olson at 507-333-3128 or follow him on Twitter @fdnGunnar.