State auditor discusses run for governor
Posted by Stan Christensen
on Aug 13, 2013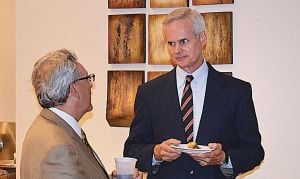 1 image
JERRY GUENTHER/DAILY NEWS
STATE AUDITOR Mike Foley (right) visits with state Sen. Jim Scheer of Norfolk during a Norfolk Rotary Club gathering Tuesday evening at the Time Square Event Center in Norfolk. Foley is considering whether to run for governor.
Foley was elected state auditor in November 2006 and re-elected in November 2010. As far as he is concerned, he has a great job and plenty of time to think about his future.
"No announcement today," Foley said with a laugh on Tuesday while talking to reporters before a talk to the Norfolk Rotary Club.
"I've got my wife (Susan) to help give it some consideration," he said. "She and I have six children, which kind of complicates things. That's a lot of responsibilities as a parent. And that's very important to me."
The 59-year-old Foley said there are no term limits on state auditor and it is a job he enjoys.
"Actually, it's a good fit for me," he said. "We're making a good contribution to the state and we're doing a lot of good. I have a great staff and I enjoy coming to work every day."
Foley, who would be up for election in 2014 as state auditor, has uncovered the misuse of millions of dollars of taxpayer dollars within various state agencies and departments.
He told Rotarians that the "vast majority" of the 13,500 state workers are honest, hard working and want to get things right.
"But in any large organization, there's always going to be that sliver," he said. "And as auditors, we're on the watch for those kinds of situations."
Foley said he gets accused of going into state agencies for no other reason than to "look for the bad stuff."
"That's right," he said, because his office wants to minimize the "bad stuff" that is happening. There is no way to eliminate it completely, but the hope is to keep it to a minimum.
During his talk, Foley discussed some situations where abuses were uncovered, including an Omaha family that got free medical service for their children from Nebraska Health and Human Services.
The family had $833,000 of taxable income, owned a $300,000 home, a $56,000 Lexus, two motor homes and two other vehicles.
"It was an extreme case for sure, but it really happened," Foley said. There were other cases at Health and Human Services where proper screening was not occurring and people lost their jobs.
"I don't take great joy in that, but if you're not going to do the job, get out of the way because there are others who will. There are plenty of Nebraskans who will take those jobs with good salaries and decent benefits who will do those jobs properly."
Foley said many times his office learns about fraud from tips from the public.
Prior to his election as state auditor, Foley served six years in the Nebraska Legislature as a state senator from Lincoln.