We are excited to welcome U.S. Naval Captain Doug Langenberg to our club this coming week. He is the current Executive Officer (2nd in Command) of the U.S.S. John C. Stennis (CVN 74) which is a Nimitz-class Nuclear Powered Supercarrier in the United States Navy. Anyone interested in visiting is welcome.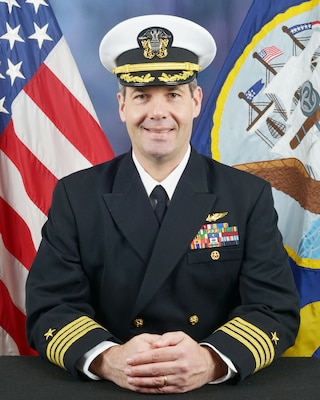 ​Captain Doug Langenberg
Executive Officer, USS John C. Stennis (CVN 74)
Captain Doug Langenberg enlisted in October 1988, attending Recruit Training and Nuclear Power School in Orlando, Florida. During his tour as an instructor at Nuclear Power Training Unit, Idaho Falls, Idaho he entered the Broadened Opportunity for Officer Selection and Training (BOOST) program and received a ROTC scholarship to Iowa State University. He graduated in 1997 with a Bachelor of Science in Civil Engineering, received his commission, and attended flight training in Pensacola, Florida, earning his Naval Flight Officer wings in March 1999.

Trained as a Radar Intercept Officer in the F-14, Captain Langenberg reported to the VF-11 Red Rippers and completed deployments on USS Dwight D. Eisenhower (CVN 69) and USS John F. Kennedy (CV 67) in support of Operations Southern Watch and Enduring Freedom. In 2003, he served with the VFA-122 Flying Eagles in Lemoore, California, then transitioned to the FA-18F and served as a Fleet Replacement Instructor.

In 2006, he attended the Naval War College in Newport, Rhode Island where he received a Master of Arts degree in National Security and Strategic Studies and assigned as the Strike Operations Officer for Carrier Air Wing Eight. In 2008, he reported as a Department Head to the VFA-213 Blacklions where he deployed on USS Theodore Roosevelt (CVN 71) in support of Operation Enduring Freedom.

In 2010, Captain Langenberg served at Commander, Naval Air Force Atlantic as the writer of the Naval Air Forces Master Aviation Plan. Selected for Strike Fighter command, he returned to VFA-213 in 2014 and deployed on USS George H. W. Bush (CVN 77) in support of Operation Inherent Resolve. Following his command tour, he attended the Joint Forces Staff College, and reported to U.S. Northern Command in June 2017 as NORAD-USNORTHCOM Command Center Director and Chief of Standards, Training and Evaluations.

Captain Langenberg assumed the duties of Executive Officer of USS John C. Stennis (CVN 74) in October 2020.

Captain Langenberg's awards include the Defense Meritorious Service Medal, Meritorious Service Medal, Air Medal, Navy Commendation Medal, Navy Achievement Medal, Good Conduct Medal as well as various unit, campaign and service awards.