Nick Lees: Two children with Type 1 diabetes set mom on path to help Edmonton's Dr. Shapiro find cure
Author of the article:
Nick Lees
• Edmonton Journal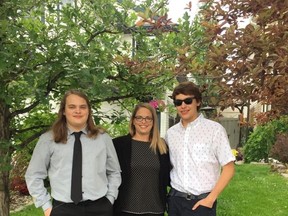 Melanie Hibbard was "terrified" by her new clinical duties when oldest son Connor (left) was diagnosed with Type 1 diabetes, but younger son Travis was later given the same diagnosis. She was told it was rare for two young family members to be given the same diagnosis and was trained to give insulin shots to combat a disease that is there around the clock every day of the year. Her husband Doug is a paramedic and is able to help. Today, Melanie is raising funds to help finance the University of Alberta's Dr. James Shapiro to find a cure for diabetes, a disease which in some form affects 25 percent of Albertans.
https://edmontonjournal.com/opinion/columnists/nick-lees-two-children-with-type-1-diabetes-set-mom-on-path-to-help-edmontons-dr-shapiro-find-cure?utm_source=Sailthru&utm_medium=email&utm_campaign=Edmonton%20Journal%20Daily%20Headlines%20-%20Weekend%202022-02-27&utm_term=EJ_HeadlineNews