Gifft Hill School fifth grader Malena del Olmo, 10, is one of just 10 students across the Caribbean to have her short story included in the Rotary E-Club of the Caribbean's electronic Butterfly Story Book.
Inclusion in the book is a competition for young Caribbean writers, and the 2015 theme was "Lighting up lives."
"Getting the prize was quite a surprise," she said.
More than 20 students from St. John schools submitted entries to the Rotary Club of St. John. Judges from the club picked three to send along to the Caribbean-wide contest.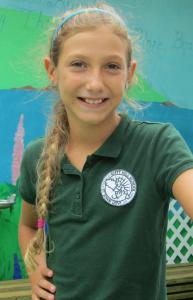 "Some shine more than others," Rotary Club member Joan Bermingham said as she discussed the process that led to Malena's victory.
Bermingham said the book will be available on Amazon and from members, which makes Malena a published writer.
Malena's story was about an iguana and a bananaquit who were best friends. She said a law was passed that prohibited them from being friends but their friends rallied and got the law changed.
"I really like friendship and want everyone to be friends," she said.
Malena said that while writing isn't her very favorite thing to do, she often writes stories.
"Since she was little, she's been creative," her mother, Veronica del Olmo, said.
Malena lives with her parents – her father is Alfredo del Olmo – and her brother, Tomas, 16. Her other brother, Luca, 18, is off at the University of Florida at Gainesville.
Malena was born at Roy L. Schneider Hospital on St. Thomas, because St. John doesn't have a hospital. Her parents hail from Argentina. She speaks Spanish but said her mother is pushing her to improve.
"So we speak a lot of Spanish at home," she said.
She makes summer trips to Argentina to visit with her cousins, and said the family has traveled to Asia and Europe.
They also travel around the Caribbean for tennis tournaments. While her parents are busy at their business, Alfredo's Landscaping, her father runs a children's tennis program. Malena said she's a good tennis player, and competes are off island tournaments.
The family also heads off to the beach on weekends, with Trunk Bay Malena's favorite.
When she's not playing tennis or at the beach, she's busy at school. She attended Gifft Hill since pre-kindergarten and said she intends to study there until she graduates from high school.
"Everybody's very nice and kind," she said, noting that there is no bullying at Gifft Hill.
Math and science are her favorite subjects, which will be helpful when she goes off to college to study veterinary medicine.
She said she also likes dancing and takes classes in Gifft Hill's program and ballet at St. John School of the Arts.
Malena recently got her first pet, a "street" dog named Coral that she walks every morning before she goes to school.
"I really like animals," she said, adding that she also has several pet fish.

By permission of The St John Source