Faribault Daily News

(reprinted with permission)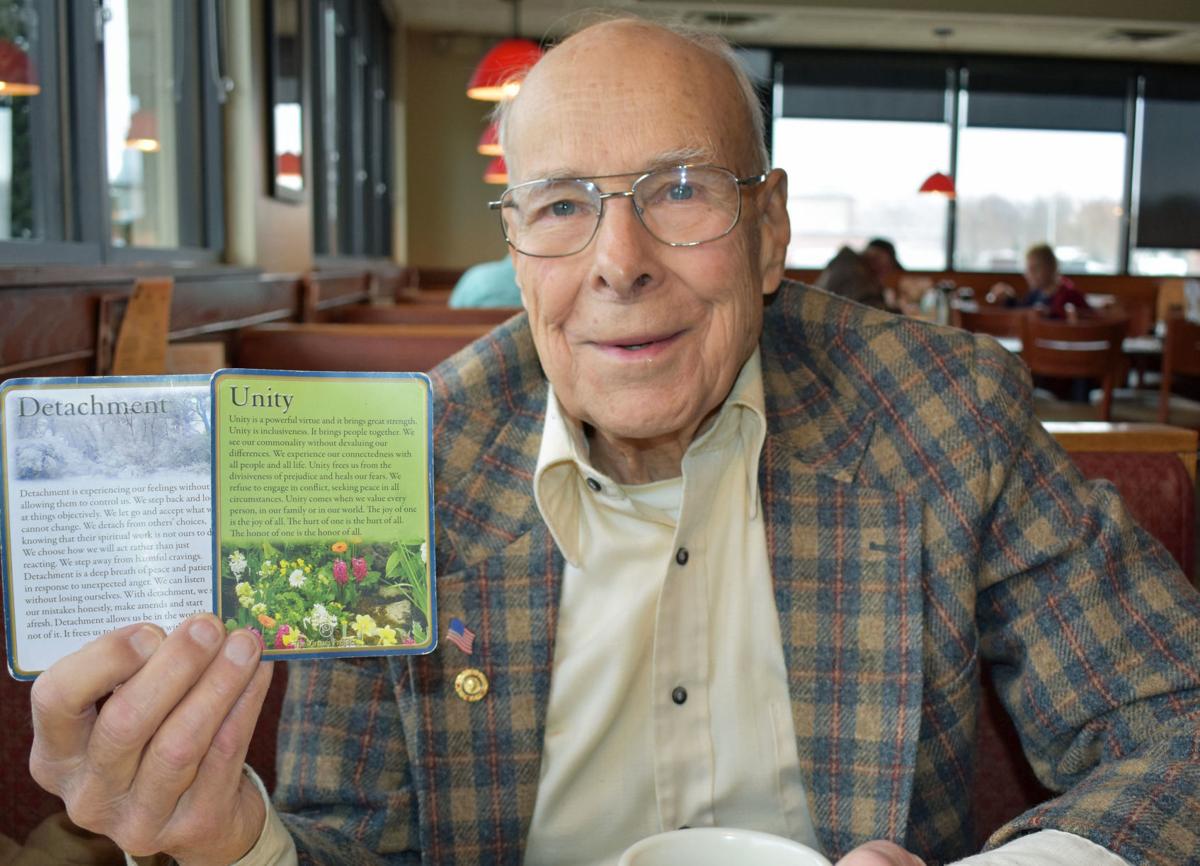 George Wickstrom attended the Faribault Rotary Club's monthly meeting Nov. 14, not knowing he'd walk away with Rotarian of the Year honors.
"I didn't realize it was going to happen," said Wickstrom. "I didn't think it would ever happen."
Fellow Rotarians nominated Wickstrom for the award, then the past five Rotarians of the Year and Faribault Rotary President Keith Kramer selected Wickstrom as the winner among other nominees.
In his acceptance speech, Wickstrom read two poems he can recite by memory — "The Man in the Glass" by Peter Dale Wimbrow Sr. and "The Touch of the Master's Hand" by Myra Brooks Welch.
Five of Wickstrom's adult children, one daughter-in-law, and several friends surprised Wickstrom with their presence at the meeting.
Wickstrom became a Faribault Rotarian July 19, 1974. At the time, he didn't know much about the club. But in his 44 years of membership, Wickstrom has come to consider Rotary "an outstanding organization."
Through Rotary, Wickstrom reads to fourth-graders at Jefferson Elementary through the Rotary Readers program. He also helps with Meals on Wheels and helps tidy Cedar Lake for the Rotary Camp held there. When Rotary exchange students come to town, he enjoys taking them to different places. During Rotary meetings, he collects hospitality and often delivers speeches on topics of interest. Wickstrom is particularly passionate about improving the economy and protecting the environment.
In addition to being an active Rotarian, Wickstrom serves on the HOPE Center Board, exercises daily, reads, and volunteers at the Salvation Army.
"I like to be busy, said Wickstrom, 88. "I don't like to waste time."
Wickstrom also devotes much of his time to The Virtues Project-Faribault. When he worked in a financial practice with Cindy Diessner, who he calls the nucleus of the project, Wickstrom latched on to the program that recognizes the best in others. He carries with him a pack of Virtues Reflection Cards and retrieves two in particular that relate to his life code — unity and detachment.
"Without unity, nothing gets done," said Wickstrom.
According to a description on the Virtues Reflection card, through unity "we see our commonality without evaluating our differences." Detachment, he reads, is "experiencing our feelings without allowing them to control us."
"In this society, we've got to find ways to get along with people," said Wickstrom.
If there's one thing Wickstrom has learned, it's that asking questions creates more unity than making statements. Where statements present opportunities to disagree, he said, "you can't argue with a question."
Faribault Rotarian Dick Houston, who's known Wickstrom for at least three decades, describes his friend as extremely bright and quick-witted.
"He's got a memory for history that's incredible," said Houston. "He knows it all by heart."
Whether it's American history or his own family history, when Wickstrom remembers stories if the message sticks with him. In particular, he recalls the profound impact a teacher made on his aunt, who in turn inspired her students when she became a teacher herself.
"You never know what's going to happen as a result of being kind to someone," said Wickstrom.
Reporter Misty Schwab can be reached at 507-744-2551. Follow her on Twitter @APGmisty.
©Copyright 2018 APG Media of Southern Minnesota. All rights reserved.