Faribault Rotary, United Way, students team up to encourage reading
Posted by Philip Weyhe on Jul 15, 2016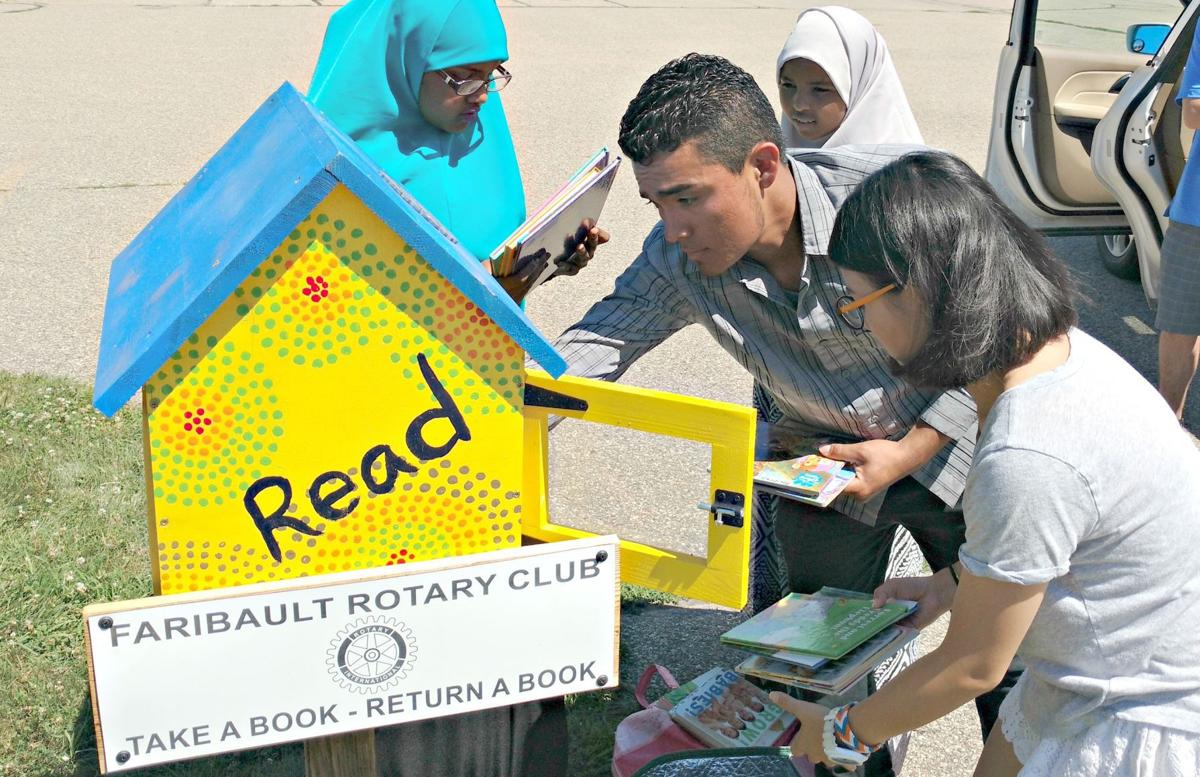 (Reprinted with permission from the Faribault Daily News)
There are few things better than books to put in the hands of youth.
Rotary Club of Faribault, United Way and UNITY students from Faribault High School are doing just that. With the installation Wednesday afternoon at Our Savior's Luterhan Church of the group's first "little library" (though not the first in town).
"We're hoping to put five or six of them up in the community in areas where there is a lot of diversity," Rotary member Dick Huston said. "The hope is to increase reading, which translates to a better education."
Huston built the library himself, and Taiwanese exchange student Maggie Chen, who lives in Huston's home, painted it. It's essentially a large mailbox with a small wooden house at the top of a wood post. On one side, there is a door with a glass window, so anyone can see the books inside.
Many of those books are donated by community members to Rotary, and many come from United Way. The latter organization's executive director, Adam Von Ruden, was on hand for the installation.
"For us, this project really falls in line with what we do in the community and advocate for," he said.
Faribault United Way currently runs its own book program, the Dolly Parton Imagination Library, which supplies signed up children with a new book, once a month, from birth to 5 years old. The program is currently at capacity with 875 kids.
Von Ruden notes that in the age of iPads in school and smartphones everywhere else, getting a book in a kid's hand remains an important step.
"It's just such a benefit to get kids reading," he said.
Huston expects more little libraries to be built throughout this year. He said they'll be strategically placed in areas they might be needed.
Children (and adults) are free to take a book inside the library at their own leisure. They're encouraged to bring it or another book back, but they don't have to, as Rotary and United Way are standing by to replenish.
Meanwhile, the UNITY students, represented on Wednesday by Rene Villalta (El Salvador), Tufah Abdulahi (Ethiopia) and Sagal Jama (Somalia), will stop by the little libraries weekly to check if they need to be restocked. UNITY is a group at the high school, where students organize events and opportunities for peers from all different cultures to come together and learn more about each other.
Abdulahi noted that the little library project is a good for the students to participate in the club and help youth in the community.
"It's to help people better understand reading," she said.
"It's really good for kids," added Jama.
Villalta noted the little libraries could be even easier to use than the regular library.
"It's free. There are no due dates. You can take your time," he said in Spanish, translated by his step-mom.
This new project is one of many that Rotary leads in the Faribault community and elsewhere. With clubs in countries all over the world, Huston noted, the Christian organization is made up of more than just Christians, and it aims to help more than just Christians, too.
"In Faribault, there is such a diverse population," he said. "We have a four-way test: Is it the truth? Is it fair to all concerned? Will it build good will and better friendships? Will it be beneficial to all concerned? This project checks all those boxes."