The following news story from reporter Misty Schwab appeared in the Faribault Daily News today and is reprinted here with permission.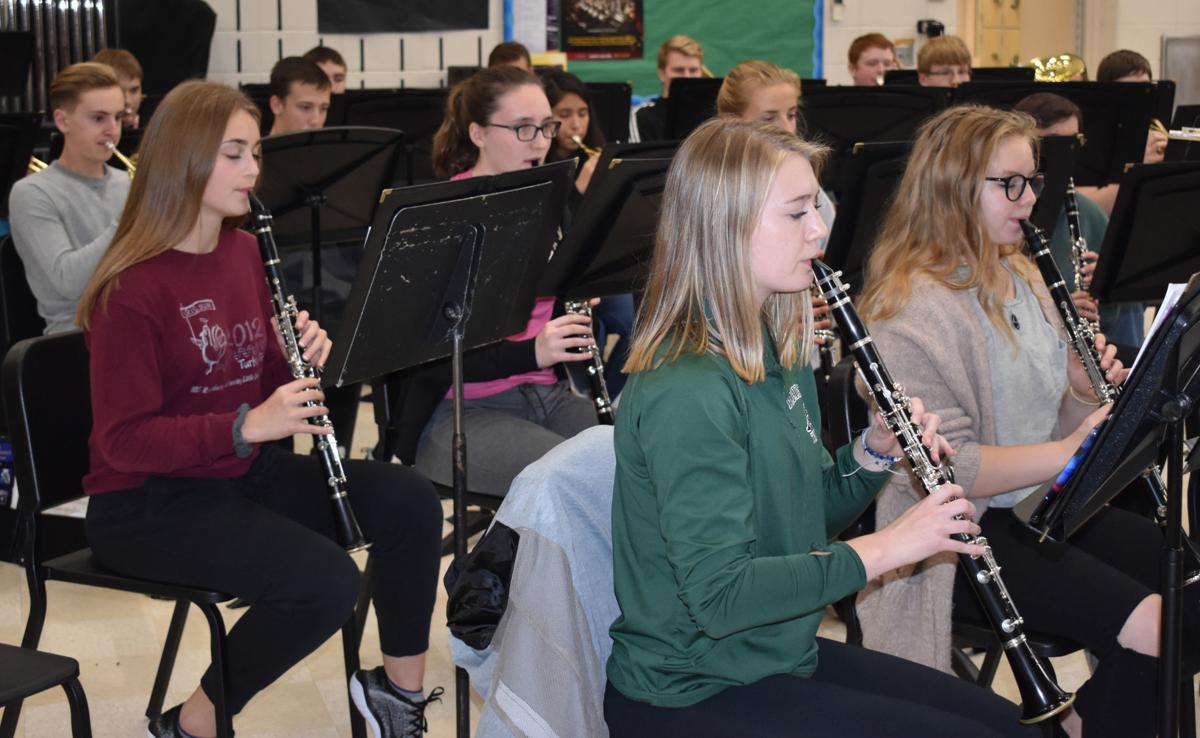 Faribault High School performing arts students started their academic year preparing for the 53th annual Rotary Scholarship Concert — an event that supports their music endeavors while entertaining an audience.
This year's Rotary Scholarship Concert is 7 p.m. Saturday in Nomeland Gym.
The funds received for ticket sales go into the Rotary Youth Services Program, which is a large pool of money the Faribault Rotary Club donates to youth service clubs they sponsor. The funds benefit children in elementary school as well as students entering college, whether the activity is related to music, athletics, art or general scholarships.
The Faribault Rotary Club began awarding scholarships to performing art students at FHS over 50 years ago. Last spring, the Faribault Rotary Club gave six $200 scholarships and one $400 scholarship to selected students.
"The directors at the high school decide who the recipients are," said Jonah Heinen, FHS choir director. "They pay for private lessons, attend summer camps, and also pay for new and personal instruments. The main objective is to contribute to their art-making. We've given [scholarships] to students in our programs who might need a little financial assistance to get started on lessons, and we've also given them to younger students like sophomores and juniors as they grow."
Music directors must approve of the way their students intend to use their scholarship money before a Rotarian writes the check.
Choir students Samuel Temple and Naya Anter received the scholarship in last spring, as did band students Hunter Williamette and Abby Stroup. Madison Klecker and Crystal Martinez, violinists in the FHS Philharmonic Orchestra, also received scholarships. Ishmael Macias, the one Faribault High School representative at the All-State Choir Camp this year, earned the only $400 scholarship for his involvement in more than one music elective.
"I already used [my scholarship]," said Williamette, holding up a new trumpet.
Williamette, a junior, said band has connected him with other people. Whether he's playing in the high school band or the community band, he values the social aspect of music.
Stroup, who plays the clarinet in the FHS wind ensemble as well as the community band, used her scholarship to pay for private lessons.
"Band is my favorite class, and Timmer is my favorite teacher," said Stroup, a senior. "I want to teach in general and hopefully continue with music after high school."
Joe Timmer, FHS band director, began preparing the wind ensemble in September for the concert. All three pieces are dances of European origin –"Consuelo Ciscar," "Albanian Dance," and "Courtly Airs and Dances."
Michael Sloane, who began directing the FHS Philharmonic Orchestra this fall, also follows the dance theme with a Mozart opera called "Lucio Silla" and a Halloween selection titled "Waltz of the Wicked."
While none of the scholarship students perform as individuals during the Rotary Scholarship Concert, whatever skills they've acquired with their award money is expected to benefit their performance in a group.
"Anytime you can improve one way or another how you perform and then bring that back to the group you are a part of, it has to be a positive," said Faribault Rotarian Donn Johnson. "That's what we're trying to provide with these scholarships."
Reporter Misty Schwab can be reached at 507-744-2551. Follow her on Twitter @APGmisty.
©Copyright 2018 APG Media of Southern Minnesota. All rights reserved.