Since December 28th, 2019, the southwest of Puerto Rico has suffered many earthquakes/aftershocks. On the morning of January 7, an earthquake magnitude 6.4 followed by another 6.0 impact the southwest coast. As a result, a number of houses collapsed and buildings and other structures have been structurally compromised. Many people are afraid to sleep inside out of fear of another quake or aftershock. There have been hundreds of tremors and aftershocks that continue daily.
On January 26-29, 2020, the Garys (Silver and Siegel), members of the Liberty NY Rotary Club, traveled to Puerto Rico for a Reconnaissance Mission to assess what the biggest needs are for the victims and their families. After touring the hardest hit areas west of Ponce including Yauco, Guanica, Guayanilla, Peñueles, and Indios we were able to assess the needs of those most affected by the quakes. Since the quakes have only affected those areas in the southern central part of the island, we have determined that most victims are getting the supplies, food and water they need, as many of their fellow citizens have stepped up to collect and deliver to those in need.
What we found is that most residents in the area most affected by the quakes are living in fear.
There are dozens of seismic activities occurring daily, including earthquakes and aftershocks ranging from 2.5 to 5.3 magnitude. Residents are afraid to sleep in their homes from fear of them collapsing due to tremors occurring in the middle of the night. As a result, many residents are living and sleeping in tents in their front yards. side yards, driveways or in temporary shelter village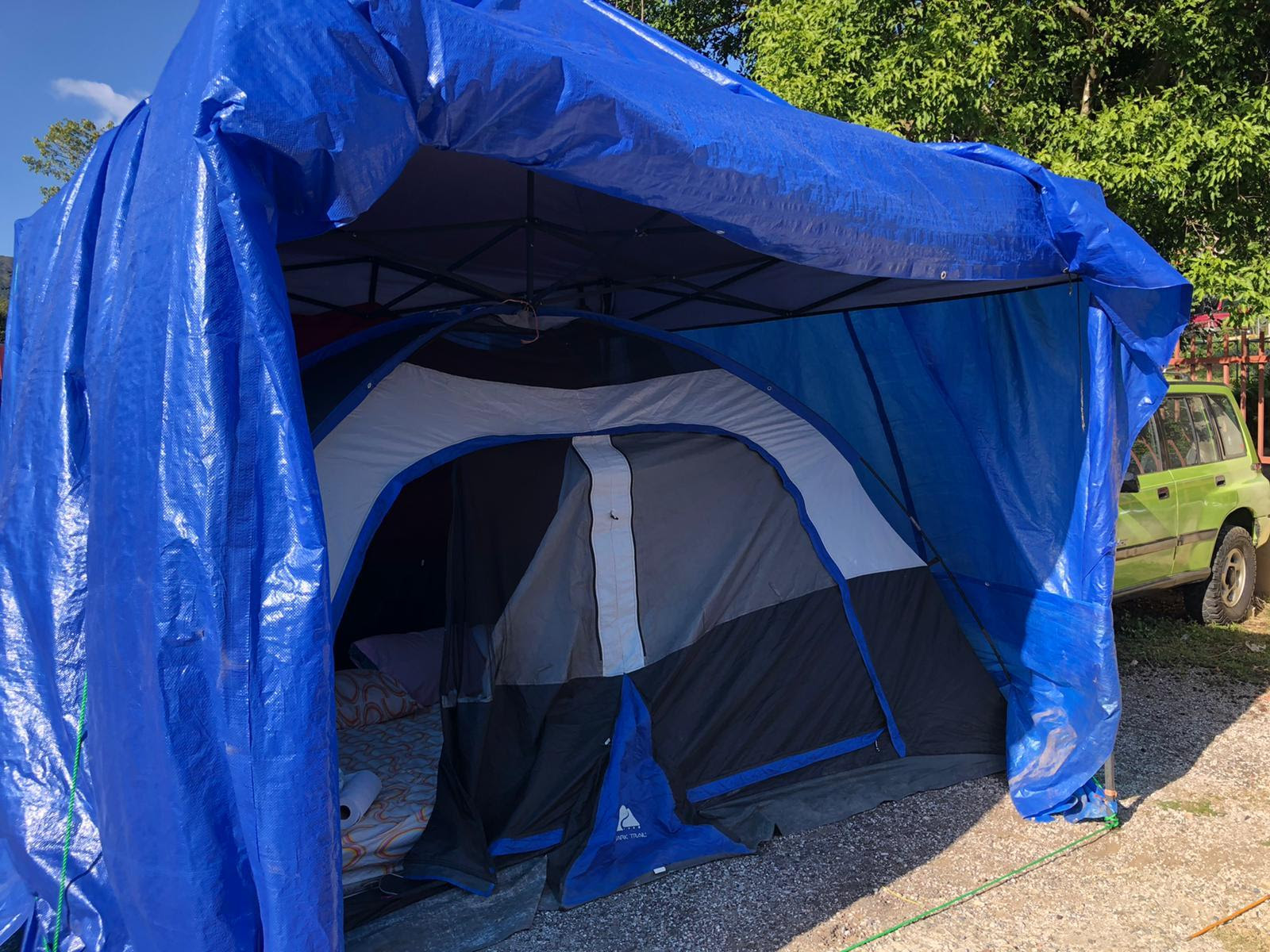 s in their neighborhoods and communities. That being said, we have concluded that what is most needed is to support the following with the donations received:
1. Damage assessment inspections and reports to affected residents where homes potentially have been structurally damaged.
Based on estimates made by the Municipal governments of the affected towns as well as the Government of Puerto Rico, thousands of houses collapsed or suffered structural damage. Buildings and other structures have also been structurally compromised.
Funds being received through grants and donations will be employed to identify residential properties that have been damaged and hire a team of structural engineers that can assess the damages and submit a damages report. The report will be prepared based on reporting standards approved by the Puerto Rico Architects, Engineers and Surveyors Society. They will be determining if sustained damages are not significant and if the residence can be occupied, which will help affected families to return to their homes. The donated funds would be covering the professional services fees of such engineers. The cost to complete the inspection is estimated to cost $250 per residence.
2. Professional Counseling to affected individuals/communities who are living in fear. Many are unable to sleep at night. Some are suicidal and cannot cope with the unpredictable seismic activity and ensuing damage.
The extent of the physical and mental damages to many local citizens continues to be assessed. Damaged to residential and business structures is estimated in the $100's of millions of dollars. The Mayor of Ponce has declared that in it municipalities alone, damages will surpass a billion dollars. Many people have suffered an emotional impact after losing their homes and their personal items. In cooperation with established network of Rotarians and organizations in Puerto Rico, we plan to establish emotional recovery clinics with psychologists, therapists and social workers that can provide emotional support and counseling to these families. Estimated cost is $250 per session.
3. Temporary shelters and Survival Kits - Temporary shelters being built by H.E.A.R.T. 9/11 along with survival kits for residents in remote areas including pup tents, tarps, flashlights, bug repellent, sunscreen, diapers, water filters, etc.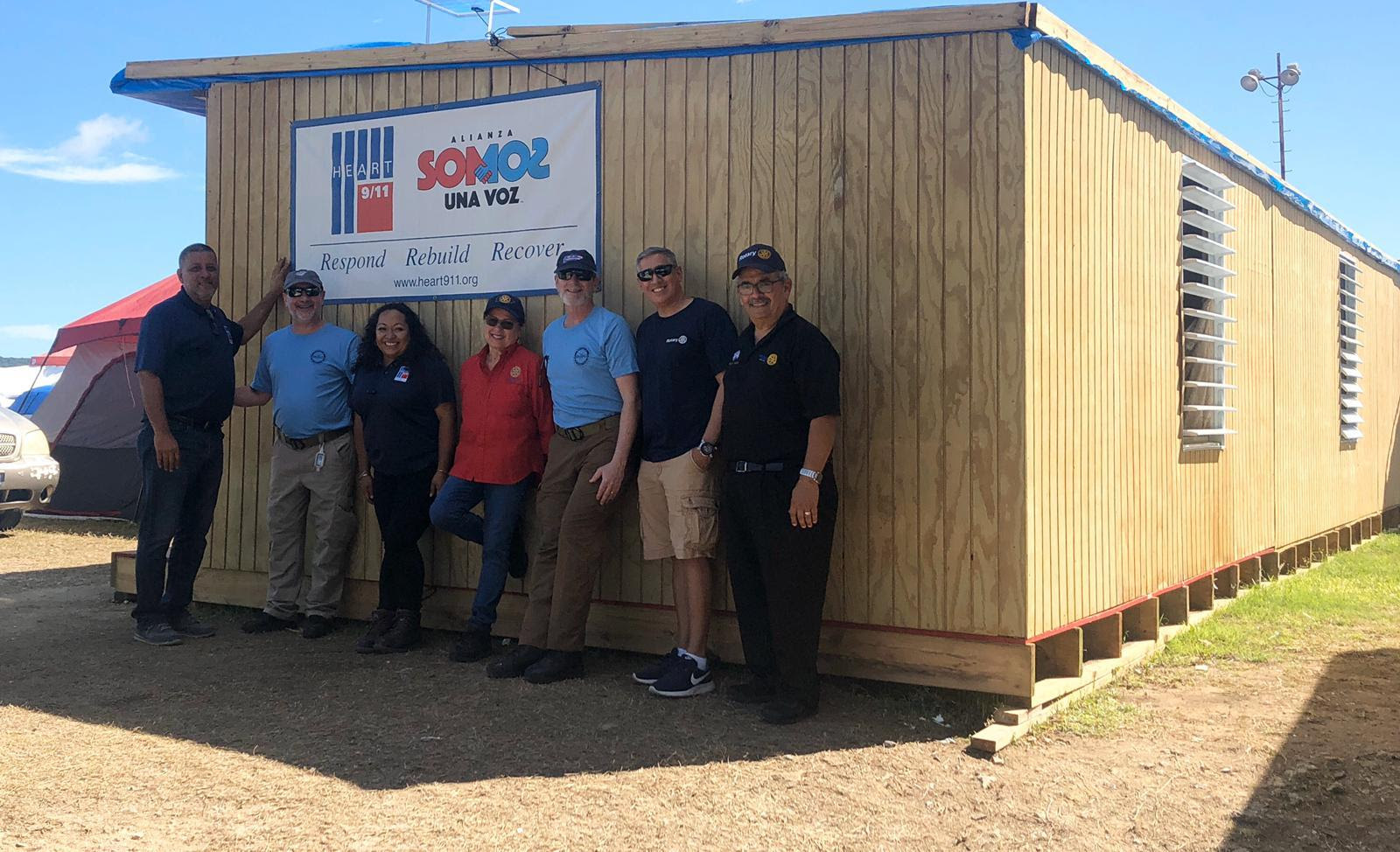 People whose residential property experienced damage abandoned their homes and moved to temporary tent camps that they set-up in lots, parks, and also in front of their collapsed houses. H.E.A.R.T. 9/11 has built close to a dozen temporary shelters throughout the quake ravaged area. Our plan is to fund purchasing the materials for the construction of up to five temporary shelters built by H.E.A.R.T. 9/11 in areas that they identify where there is the most need.
TO DATE our efforts have raised over $11,000 since our first appeal for donations. We did spend $1600 in supplies during the Reconnaissance mission. A "real time" list of needed supplies was provided by Endeavor of Puerto Rico and Tango Whiskey PC-12 Squadron and our entourage of District 7000 Rotarians, District 7210 Rotarians, et al purchased $1600 worth of water, diapers, flashlights, sunscreen, insect repellent, tents at the Ponce Walmart Superstore which we distributed and donated to families in the areas that were most affected by the quakes during our tour.
As the tremors and quakes continue daily, more damage occurs and the epicenters shift within the southwest region of the island. The mental and psychological damage to the population cannot be quantified, but needless to say, the overarching tone is somber and one of hypervigilance, coupled with anxiety and disturbance of sleep patterns. We are appealing to all
The Puerto Rico Rotary leadership has stated that, while they know that their US and International friends will probably reach out and provide immediate supplies, monetary donations would be most effective. Receiving funds will allow them to be more proactive and purchase needed services at home. Through Rotary, money is being securely collected and the money raised is being distributed directly to assist the people of Puerto Rico during this frightening time. Please consider donating to our fellow citizens, brothers and sisters – no donation is too large or too small – through one of the options below.
While many clubs have already donated (see list below), I know that other clubs continue to discuss the disaster and determine what they can do in terms of supporting the efforts with a donation this week. Please share this information with fellow Rotarians, family, friends, and co-workers. Our friends and fellow citizens in Puerto Rico need our help. Kindly consider sending a donation today. All donations are tax deductible as per the parameters of the IRS rules.
Onward and upward!
CD
Gary Siegel
District 7210 Disaster Relief Chair
Liberty NY Rotary Club President Elect
845 798-2188
.
To donate by check or money order make payable to:
CFOS Liberty, New York, Rotary Club Foundation Fund

Send checks to:
CFOS Liberty, New York, Rotary Club Foundation Fund

30 Scotts Corners Drive, Suite 203

Montgomery, NY 12549
Please write "Puerto Rico Disaster Relief" in the memo

For more information contact:
Gary Siegel
District 7210 Disaster Relief Chair
Liberty NY Rotary Club President Elect Email:
Phone: 845-798-2188
Our heartfelt thanks goes to the following Rotary Clubs:
Carmel Rotary Club $ 500.00
Coxsackie-Athens Rotary Club $ 250.00
Hudson Rotary Club $ 500.00
Millbrook Rotary Club $ 500.00
Minisink Valley Rotary Club $ 500.00
New Paltz Rotary Club $1000.00
Patterson Rotary Club $1000.00
Rotary Community Service Corp $ 200.00
Rotary District 7210 $ 500.00
Wachusett Rotary Club (District 7910) $2000.00
Walden Rotary Club $1000.00
Wallkill East Rotary Club $1000.00
In addition our heartfelt thanks go to the following individuals for their donations:
Gary Schmidt (Monticello, NY) $500
Urs and Heidi Kopp $500
Joseph Skoler $250
Miriam Birmiel $180
Gary & Judy Siegel (Liberty NY Rotary) $108
Neil Howard (Hudson Rotary) $100
Janetta McArthur (Livingston Manor Rotary) $100
Gary Silver (Liberty NY Rotary) $100
Anthony Sinacore $100
Donna Belgard $75
Peter & Barbara Blakey (Liberty NY Rotary) $50.00
Lauren A Doucette $50
Sun Lee $50
David Narvid $50
Martin J Plevel $50
Peter B. Sullivan (Walden Rotary) $50
Jack Strassman (Liberty NY Rotary) $50
Michael D Barker $25
Catskill Timing $25
Barbara H. Kelly $20
The Liberty, New York, Rotary Club Foundation Fund is dedicated to providing assistance to those areas effected by catastrophic natural disasters. Often times partnering with other civil service organizations, the members of this Rotary Club put service above self and lend a helping hand to those in need.