And the winners are......
Congratulations to the winners of the Taste of the Town Raffle Draw.
Grand prize - Cindy Simpson
Pizza for a year - Peter Gordon
Pie for a year - Sally Sainsbury.
Sincere thanks to all those who purchased tickets. All funds go directly to the most urgent needs of the Gibson Centre to remain rich in heritage and alive with culture!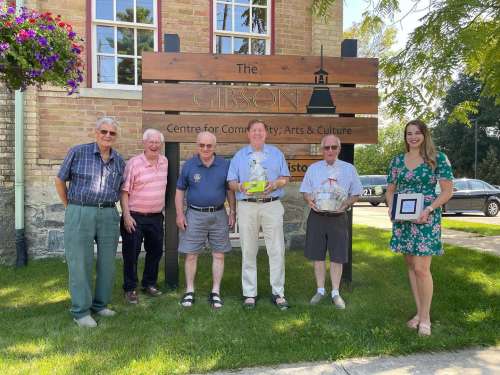 Rotarian Ed Zelinski(3rd from left) took part in the draw.
A special thanks go to Rotary Club of Alliston, our lead sponsor for this raffle. Your support means so much to arts and culture in our community.
The Rotary Club of Alliston donated $2500 to the Gibson Centre for Community, Arts and Culture for their annual Taste of the Town. Photos and text from the Gibson Centre Website.