Dayton Rotarian Kim Bramlage along with 48 other Rotarians from the US, Canada and Barbados, went on a 10 day journey to India that combined participation in India's National Polio Immunization activities, interaction with local Rotary clubs and their projects, and visiting some of India's most extraordinary sites. Kim's initial reaction upon arrival was…"I'm in India—OMG! It's hard to describe this place. Opulent hotel, beautiful scenery, people everywhere, poor and rich, exotic birds, mosques, monkeys, great food, tempting textiles and more!" She was overwhelmed by incredibly breathtaking sights, both beautiful and horrible. There are definitely two different worlds in one country from laundry on the street and make shift houses to 5 star opulent hotels.
Kim and the group visited the Taj Mahal, shopped at outdoor markets, and attended all-female Rotarian meetings. They rode on an elephant up a mountain and had a crazy Jeep ride down the mountain after touring the Amer Fort.
While transitioning to polio and Rotary activities they visited St. Stephens Hospital and learned about the ward for polio victims. They have a 1-2 month waiting list for free surgery to fix debilitating limb deformities. The group visited an artificial limb factory where people can get limbs in a matter of hours for free. They had lunch with the Delhi Midtown Rotary Club and heard an update on polio eradication from the World Health Organization. They boarded a bus and spent time walking through neighborhoods and villages while participating in the Polio Rally in Delhi. They even spotted the Dali Lama! Kim stated, "When your day begins with a surprise sighting of the Dalai Lama, you know it's gonna be a great day!!" Immunization day was a success with so many cute little ones who received the two drops of vaccine that will keep India polio free! Kim stated, "The faces of these little people (along with their parents and grandparents) are so heart warming. Proud to be a Rotarian!" They also went door-to-door immunizing children. The project was challenging to say the least, but it was important work and hopefully saved many children from ever experiencing polio with just 2 drops of vaccine costing just 60 cents a dose.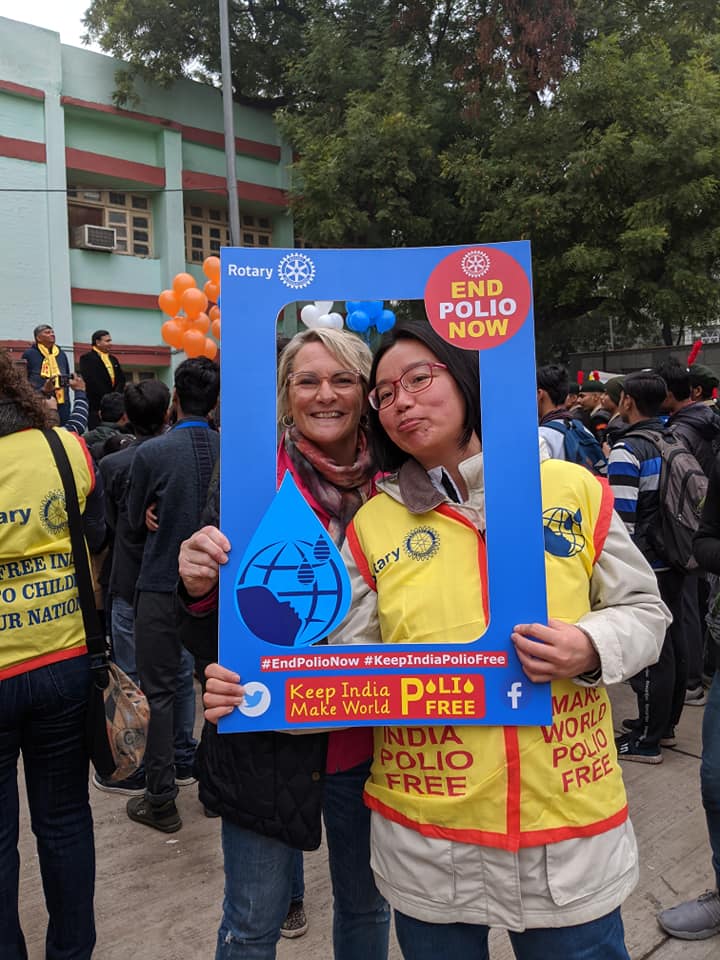 Kim indicated that the accommodations and trip planning and organization were superb and her new Rotary friendships will hopefully last a lifetime. And the mission was accomplished...they joined people all over India providing the vaccine and spreading the word that we are so close to making sure no one ever has to suffer from polio again. Even though India was declared polio-free in 2014, Rotary cannot stop the immunization there because of the closeness to Pakistan and Afghanistan as the families often travel back and forth across the border.