South Tyler Rotary Foundation
Spaghetti Supper
Thursday April, 27th from 5:00 to 7:00
First Christian Church Family Life Center (Loop 323 & South Broadway)
Participation Levels

We can bill you. You may also pay by credit card or PayPal

Platinum Sponsor – $500

50 Spaghetti Dinner Tickets

+ Exclusive corporate name recognition, plus company recognition by KTBB

Gold Sponsor – $300

30 Spaghetti Dinner Tickets

+ Special recognition for your corporate name & logo, plus company recognition by KTBB

Silver Sponsor – $200

20 Spaghetti Dinner Tickets

+ Your corporate name on top corner of printed material, plus company recognition by KTBB

Corporate Sponsor – $100

10 Spaghetti Dinner Tickets

+ Your corporate name on printed material, plus company recognition by KTBB
See an example of our advertising material below.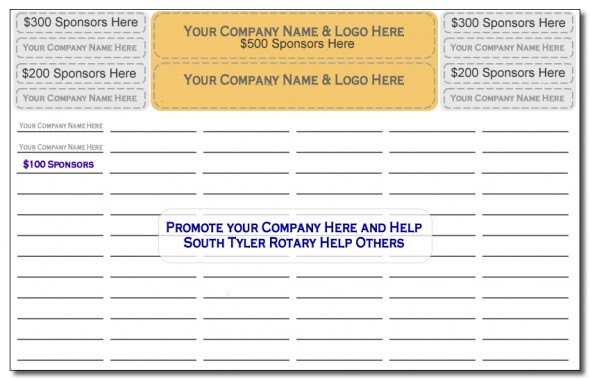 Please e-mail Amanda Folmar at folmar@amandafolmar.com with any questions or comments. THANK YOU for your continued support!
The tax deductible portion of your donation is the amount given reduced by the value of the dinners received. We estimate the value of such dinner to be $5 each.
The South Tyler Rotary Foundation is a non-profit 501(c) 3 organization, Federal Tax ID #75-2667889.
50% of all proceeds are distributed immediately to local needs and 50% retained in the South Tyler Foundation account to provide long term and immediate sources of unbudgeted funds for disaster relief for local humanitarian emergencies.