Georgia Ranks 40th in overall Health Status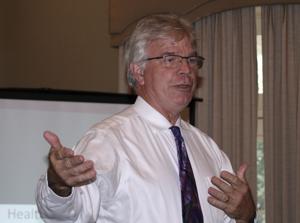 The Georgia Hospital Association emerged from its status as a committee of the Medical Association of Georgia some 85 years ago to help draw attention to rising health care costs, workers comp payments and the rising number of indigent care patients.
"Sound familiar?," asked GHA Chief Medical Officer Dr. Doug Patten during a presentation to the Rome Seven Hills Rotary Club Tuesday
Patten explained that the American version of delivering excellent health care is sick care and hurt care.
"If you get sick or hurt, there's no place in the world you'd rather be than here," Patten said. "The rest of the world is investing in things which keep people from getting sick or hurt."
Patten said the State of Georgia ranks 40th in overall health status in the entire United States based on a survey taken by the United Healthcare Foundation.
Doug Walker RN-T
Patten told the civic group the average American spends twice as much on healthcare costs as peers in other industrialized nations and global trading partners.
"That's okay if what's really expensive is worth it," Patten said. "By any number of measures of overall health status were not really at the top."
Patten said Georgia is taking a number of steps to try to improve. One of them, according to Patten, is a rural hospital tax credit program, which will begin in January.
Polk Medical Center is one of 47 hospitals statewide targeted for eligibility.
While Patten was in Rome, CEOs from a number of rural hospitals were at the state Capitol to kick off a task force called Rural Health­care 180 to promote the tax credit program.
Patten said businesses and individuals can contribute to target hospitals. Each hospital has to draw up a plan for how they would use funds.
"We'll see more information about that as soon as the Department of Community Health and the Department of Revenue finish writing the rules," Patten said.
He expects those rules to be published before Thanksgiving."