City School by Mohawk - Bryan Webber
City School by Mohawk brings the college to the community.
With free learning opportunities right in Hamilton neighbourhoods, Hamiltonians can get started on their journey to college or employment in a more comfortable, risk-free way!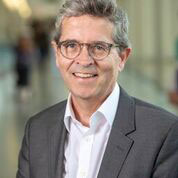 Bryan Webber, Senior Development Officer, Mohawk College Foundation
Bryan joined the Mohawk College Foundation team in May 2018, to help build relationships with individuals, businesses and foundations that share our vision for City School. He comes to the Foundation following a 20-year career in the charitable sector, most recently at the YMCA of Hamilton, Burlington, Brantford where he served as Vice-President Financial Development. Connect with Bryan to find out how you can support City School students!