The Gift of Words — Our Dictionary Program
---
In 1999, in a major expansion of its literacy program the Petaluma Rotary Club decided to give a quality dictionary to every third-grader in Petaluma. Funds for the program were raised by conducting an annual season of Friendship Feasts. These feasts are dinner parties, hosted by Rotarians in their homes and attended by fellow Rotarians. Neither host nor guest chooses the other; guests are assigned to maximize new acquaintances and friendships. Guests pay a reasonable price for the evening; all money collected goes to buy the dictionaries.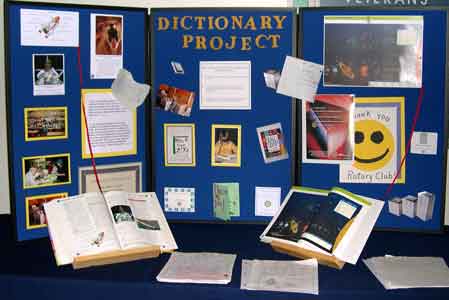 This display helped spread word of the project.
The dictionary program proved to be a popular one. The other Rotary Clubs in Petaluma soon joined in and then the program spread throughout District 5130, an area stretching north from Petaluma to the Oregon border. The program has grown every year and today includes about 100 Rotary Clubs from Hawaii to North Carolina. During the 2005-2006 Rotary year the program distributed approximately 30,000 dictionaries.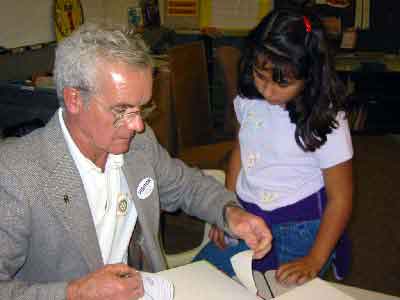 The student's name is entered in a locally procured bookplate featuring the Rotary logo and the Club's name.
What do the third-graders have to say about the program? Click here to find out.
Click here for scenes from our dictionary distribution in local schools.
Read about the dictionary project in The Rotarian magazine.
Rotary Clubs and Districts: For more information about this program, click here.