Who We Are — What We Do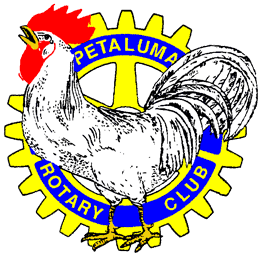 Since its founding in 1923 the Rotary Club of Petaluma has been proud to serve Petaluma and the world. Service is what Rotary is all about and the men and women of the Petaluma Rotary Club are committed to this ideal.
The object of Rotary is to encourage and foster the ideal of service as a basis of worthy enterprise and, in particular, to encourage and foster:
The development of acquaintance as an opportunity for service;
High ethical standards in business and professions; the recognition of the worthiness of all useful occupations; and the dignifying by each Rotarian of his or her occupation as an opportunity to serve society;
The application of the ideal of service by every Rotarian to self, business and community life; and
The advancement of international understanding, good will, and peace through a world fellowship of business and professional people united in the ideal of service.
The Club is a member of Rotary International. For information about this worldwide organization, click here.
Today about one hundred men and women, leaders in Petaluma's business and professional community, make up the club's membership. Meeting every week, they pursue this ideal of service while enjoying the camaraderie of like-minded individuals. Here are some of the service projects being accomplished by the Rotary Club of Petaluma:
The rehabilitation of McNear Playground
Providing a dictionary to every third grade student
Volunteering as tutors in local schools
Providing holiday gifts to underprivileged children
Sponsoring Interact Clubs at Petaluma High School, St. Vincent High School and Petaluma Junior High School
Sponsoring Scouting and supporting the local FFA club
Hosting senior citizens at our luncheon meetings
Sponsoring a leadership development camp for teenagers
Providing a broad range of services to the community of Mulegé, Mexico
Hosting an annual salute to Petaluma's agricultural community
Supporting the Petaluma Rotary Foundation, a philanthropic organization that distributes cash grants annually to deserving local organizations and individuals.
For a listing of the club's leadership: click here